The Timeless Trend of Classic-Themed Weddings
When it comes to planning a wedding, the multitude of available theme options can often feel overwhelming. From bohemian to rustic to modern, it can be a challenge to decide what direction to go in. However, one theme trend that has consistently remained popular is the classic-themed wedding. With its timeless elegance and sophistication, it's no wonder why so many couples are opting for this theme for their big day. Here's why classic-themed weddings are the perfect choice for your wedding:
Why Classic is Always in Style
There's something about a classic-themed wedding that never goes out of style. Whether it's the romantic ambiance, timeless decor, or traditional dress code, a classic wedding offers a level of sophistication and glamour that is unmatched. This is not to say that other themes don't have their own unique charm, but a classic wedding is perfect for those who want a wedding that stands the test of time. From the dress to the decor, everything about a classic wedding is designed to create a timeless look that will never go out of style.
How to Achieve the Classic Look
Creating a classic-themed wedding requires a careful balance of elegance and simplicity. To achieve this look, you'll want to focus on classic color palettes such as whites, creams, and pastels. Incorporating classic elements such as lace, pearls, and crystals can also add to the timeless feel. When choosing a dress, you can't go wrong with a long-sleeved lace gown or a simple ballgown. For the groom, a classic black tuxedo always does the trick.
When it comes to decorations, keep it simple and elegant. Classic flower arrangements such as roses, peonies, and hydrangeas are perfect for adding a touch of romance to your day. Incorporating candlelight can also give a classic feel to your decor. When it comes to centerpieces, think tall candelabras or low floral arrangements in classic silver or gold vessels.
Why Classic Music is a Must-Have
When it comes to music, classic-themed weddings require timeless, sophisticated tunes. Classical music is a perfect choice for your ceremony, while instrumental jazz or swing music sets the mood for your reception. Not only does classic music add to the elegance of your day, but it's also less likely to become dated in the future. You don't want to look back at your wedding photos in ten years and cringe at your song choices!
Why Classic Food is Always a Crowd-Pleaser
When it comes to food, classic options are always a safe bet. Traditional dishes such as roast beef or chicken with vegetables and potatoes are a perfect choice for your main course. For appetizers, you can't go wrong with classic favorites such as shrimp cocktail or bruschetta. When it comes to dessert, classic options such as a tiered wedding cake or a dessert bar are always a hit. By choosing classic options, not only will you please all your guests, but you'll also create a timeless element to your day that will never go out of style.
Why You Should Consider a Classic Wedding
At the end of the day, a classic-themed wedding is the perfect choice for couples who want an elegant, timeless event. With its focus on simplicity and sophistication, a classic wedding will create a look and feel that will be cherished for years to come. Not to mention, it's a great choice for those who want to avoid the risk of looking back at their wedding photos and realizing that they fell victim to a passing trend. Choosing a classic wedding ensures that your day will remain as beautiful and elegant as the day you said «I do.»
Conclusion
In conclusion, a classic-themed wedding offers sophistication, elegance, and timelessness that is unmatched by other theme options. By focusing on classic colors, elements, music, and food, you can create a day that will remain in style for years to come. If you're looking for a wedding theme that is sure to please, a classic wedding is a timeless choice that you won't regret.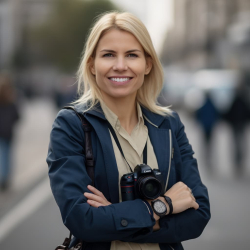 Últimas entradas de Amy Roberts
(ver todo)