Make the Right Choice: Why Choosing the Right Groom Suit is Crucial for Your Wedding Day
Your wedding day is one of the most important days of your life and it is natural to want everything to be perfect. As a groom, choosing the right suit can be just as crucial as your bride choosing the perfect dress. Not only will you want to look your best, but you will also want to feel comfortable and confident throughout the day. This article will provide you with tips and advice on how to choose the right groom suit for your big day.
Consider the Theme of Your Wedding
The theme of your wedding will play a significant role in the choice of your suit. If you are planning a traditional wedding, a classic black or navy suit with a crisp white shirt and a tie is the perfect choice. For a rustic or outdoor wedding, you might choose a lighter suit with earthier tones or even opt for a casual linen suit to match the relaxed atmosphere.
Think About the Time of Day and Seasonal Climate
The time of day and seasonal climate should also be considered when selecting your suit. If your wedding is during the day, a lighter color suit would be appropriate. For a winter wedding, a heavier suit fabric will be necessary to keep warm, while a light cotton suit would be suitable for a summer wedding.
Know Your Body Type and Color Preferences
Knowing your body type and color preferences will help you choose the right suit that enhances your features while also complementing your bride's dress. Different suits work best for different body shapes. A slim-fit suit would be great for a groom with a lean body type while a double-breasted suit would work better for a groom with a muscular build. Regarding color preferences, some people prefer traditional black suits, while others might opt for a unique color that matches their personality.
Choose a Fabric That Suits the Occasion
Choosing the right fabric is important and will depend on the occasion. A woolen suit is perfect for a winter wedding, while a light cotton suit is better suited for a summer wedding. If you are looking for more elegant fabric, consider luxurious textiles such as silk, velvet, or even cashmere.
Focus on the Fit and Comfort
The fit and comfort of your suit should be given top priority. No matter how stylish or luxurious your suit is, if it does not fit well or make you comfortable, it will not be the right choice. Make sure the suit you choose fits you properly, and you can move around comfortably in it. It is advisable to try on your groom suit several times before the wedding day to ensure it fits correctly.
Choose Accessories that Complement Your Suit
Accessories play a significant role in creating the perfect look for your wedding day. Choosing the right accessories ensures that you have a complete and polished look. Consider accessorizing with a tie or bow tie that complements the color and style of your suit. Pocket squares, cufflinks, and boutonnieres are also important elements that should be considered to create a classic and elegant look.
Get Advice from Experts
While it is important to choose a suit that matches your preferences, it is also important to get advice from experts. You can consult a professional suit consultant or a trusted tailor to provide you with suggestions and advice on choosing your groom suit. They can help you choose the best fit, style, fabric, and accessories for your wedding day.
Summary
Your wedding day is a significant moment, and choosing the right groom suit is crucial to make this event perfect. Your choice of suit will create an impression and will determine how comfortable and confident you feel throughout the day. The tips outlined in this article should help guide you in making the right choice to ensure that you look and feel your best. Remember, a well-tailored suit that complements your personality and style will create a timeless and memorable look that will last a lifetime.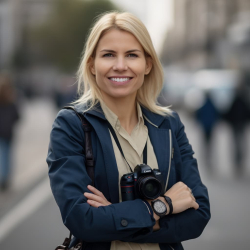 Últimas entradas de Amy Roberts
(ver todo)