When it comes to getting married, most couples want to make their day memorable, unique, and absolutely magical. One way to achieve all three is by having a forest wedding. Celebrating your special day amidst the natural beauty of trees, birds, and all that nature has to offer can create an experience that your guests will never forget.
There are various reasons why couples consider a forest wedding. For some, it's because of the intimacy and the peace that the tree canopies offer. For others, it's the romance and beauty that come together to create an unmatchable atmosphere. No matter the reason, if you're considering a forest wedding, then here are some essential tips to make the experience unforgettable.
Choose the Right Time
While daylight hours can be magical, sunsets and sunrises even more so. Imagine saying your vows as the sun sets, casting an orangey-yellow light on you and your partner. That's the kind of moment that'll stay etched in your memories forever. Choosing the right time is imperative for a forest wedding, so keep the weather forecast in mind when setting a date.
Also, consider the time of year. Summer weddings provide the warmth and sunshine to enjoy the lush greenery, while in autumn, the trees transform into golden colors, creating a picturesque backdrop for your wedding.
Location, Location, Location
Choosing the right location for your forest wedding sets the tone for the entire celebration. There are numerous options, such as parks, beaches, and private woods. While some might prefer a secluded and rustic location, others might favor close proximity to a town or hotel for easier guest accommodations.
Ensure you visit the wedding location before the big day to scout out the best spots for the ceremony and reception. Have a close look at the trees, bushes, and paths to find the ideal place to set up chairs, an aisle, and a reception area. Also, check if there's an option for indoor accommodation in case the weather becomes uncooperative, or if guests need to freshen up.
Decorations and Florals
The natural beauty and greenery of a forest already set the perfect backdrop for your wedding. Instead of overwhelming the environment with decorations, opt for touches of elegance that enhance the ambiance and atmosphere. Consider adding string lights or lanterns to light up pathways, white drapes to frame the altar, or wooden signages to guide guests.
Flowers add the finishing touch to decorations. Choose flowers that complement the forest setting, like wildflowers, ferns, and garlands. Daisies, roses, or baby's breath work well as centerpieces. For an added touch, incorporate locally grown flowers and greenery to celebrate the surrounding nature truly.
Catering and Refreshments
A forest wedding offers many catering options to suit your taste and budget. Have a summer wedding? Opt for a BBQ, a picnic, or a food truck catering setup. For a more traditional and rustic event, go down the buffet or family-style meal route.
No forest wedding is complete without refreshing drinks to keep your guests cool. Offer guests a signature cocktail to quench their thirst, such as a berry mojito or a campfire hot chocolate. Don't forget to keep hydration in mind, too. Offer options like water stations, lemonade, and tea to keep guests hydrated throughout the day.
Musical Entertainment
Music sets the tone for any event, and this is especially true for weddings. From romantic ballads to upbeat party music, the right playlist will keep guests entertained and on their feet throughout the day or evening. You can hire a DJ or a band to provide live music and keep everyone happy and grooving.
Don't forget to have a backup plan if you're hosting the wedding outdoors. Consider getting audio equipment that can quickly switch from an indoor to outdoor setting to ensure uninterrupted entertainment.
The Conclusion
A forest wedding is a chance to escape the humdrum of daily life and immerse yourself in nature's beauty. From choosing the right location to selecting the perfect decor, catering, and music, careful planning ensures an experience that exceeds all expectations. Your forest wedding is an opportunity to create special memories and share a day in paradise with your loved ones.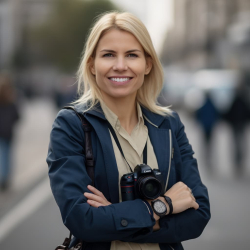 Últimas entradas de Amy Roberts
(ver todo)