The wedding day is one of the most significant events in one's life, and every couple wants to make it perfect. A vintage-themed wedding can help the bride and groom create a uniquely beautiful wedding. This theme is timeless, chic, and it transports one to the romantic era of the past. If you are considering a vintage-themed wedding, here are some tips to make it unforgettable.
Choosing a Vintage Theme
There are various eras and styles to consider when selecting a vintage theme. Some people opt for the Roaring Twenties and Gatsby era, while others prefer the Victorian era. It's essential to choose a theme that excites you and the groom. Look for inspiration in classic romantic movies like Gone with the Wind and Casablanca. Also, look for vintage decor, fashion magazines, and online resources to help you narrow down your theme.
The Perfect Vintage Dress
The wedding dress is a crucial aspect of a vintage-themed wedding. Whether you opt for a tea-length dress with a flared skirt, or a long-sleeved lace gown with a high collar, it's essential to find the perfect dress that suits your personal style. Check out vintage bridal boutiques, thrift stores, wedding gown rental services, auction sites like eBay, and online stores for the perfect dress.
Don't Forget the Accessories
To complete your vintage look, accessorize your dress with vintage pieces of jewelry, a headpiece, gloves, and a veil. A birdcage veil or a Juliet cap veil can add a touch of vintage glamour to your look. Also, vintage-inspired shoes, clutches, and other accessories can enhance your outfit.
Creative Vintage Decor
The decor plays a crucial role in setting the vintage glamour scene. Whether you hold your wedding outdoors or indoors, select a venue that suits your preferred vintage era. Add rustic, romantic or vintage signage, such as chalkboards, wooden name tags, and sentimental quotes. You can also add antique picture frames, vintage furniture, and antique birdcages as decor. Floral arrangements with vintage flowers like roses, peonies, and hydrangeas can add a pop of color to your vintage arrangements.
Old-Timey Menu
Food and drinks play an essential role in your wedding and can help set the vintage tone. Incorporate classic dishes from the era you choose. For example, serve mint juleps, champagne glasses, and classic cocktails from the Gatsby era. Consider adding cheese platters and charcuterie boards, roasted chicken, and vegetables. You can also add some sweets like old-fashioned candy, mini pies, and cakes that match your color scheme.
The Value of Live Music
Live music adds ambiance to your vintage wedding. Hire a live band or a jazz trio to play sentimental classics from your preferred era. You can also select romantic ballads that fit your personal taste. Couples can also create a personalized playlist for the DJ to play during the reception.
Vintage Photography
Vintage photography helps capture small moments and makes them unforgettable. Hire a photographer who specializes in vintage wedding photography or has experience in capturing classic black-and-white photos. Consider adding props like old-fashioned cameras, vintage typewriters, or retro suitcases to your photoshoots.
Guest Entertainment
Entertainment is essential in any wedding. Add vintage-inspired games such as pin-the-tail-on-the-donkey, giant Jenga, and croquet. Couples can also hire a professional dance instructor to teach guests how to dance to ballroom classics or vintage swing.
Vintage Transportation
Vintage transportation can add a unique touch to your wedding. Rent a vintage car like a classic Rolls-Royce or a 1950s Chevrolet and arrive in style. You can also add a horse-drawn carriage or a trolley if your wedding has a larger guest list.
Final Thoughts
A vintage-themed wedding is a perfect way to embrace nostalgia and create a one-of-a-kind experience that leaves a lasting impression. With these tips in mind, couples can create an unforgettable wedding that transports guests to an era of classic romance.
Whether you opt for a roaring 20s or a romantic Victorian theme, remember to select a theme that resonates with you and your partner. Make sure to plan accordingly and prepare for the unexpected to ensure the day runs smoothly. Don't forget to take plenty of photos and enjoy every moment. A vintage wedding is a celebration that will be cherished for a lifetime.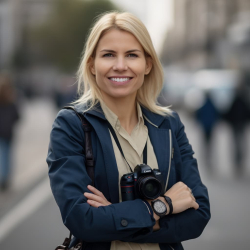 Últimas entradas de Amy Roberts
(ver todo)